Design
We are going to discuss about the interior design of bedroom. In our routine life, after finishing our office work definitely we should take over to the bedroom. The setting of our bedroom and designs of our interior gives more comfortable.
Style
First and foremost we tried a curvy designs. This is not based on my style of interior, generally each and every architect has respective designs. This is my new effort of introducing a small curves and angular lines.
Moving towards the bed back wall it's just a free flowing sketches, getting out from the scribble patterns, we took it as a small curves. We placed a design artwork "smile" in the middle of the wall to give refreshments.
We placed a perfect cushion which matches towards the angle. Also we placed a curvy side table near the bed. It is different from the normal side table design. It is something varies, that we placed a table with a curvy finish and a single draw.
Lighting
Slighting towards the lighting, we gave a hanging light which represents the simplest view. We placed a low lying bed. In the bottom of the bed, we gave cove light provisions for the lighting facility under the bed.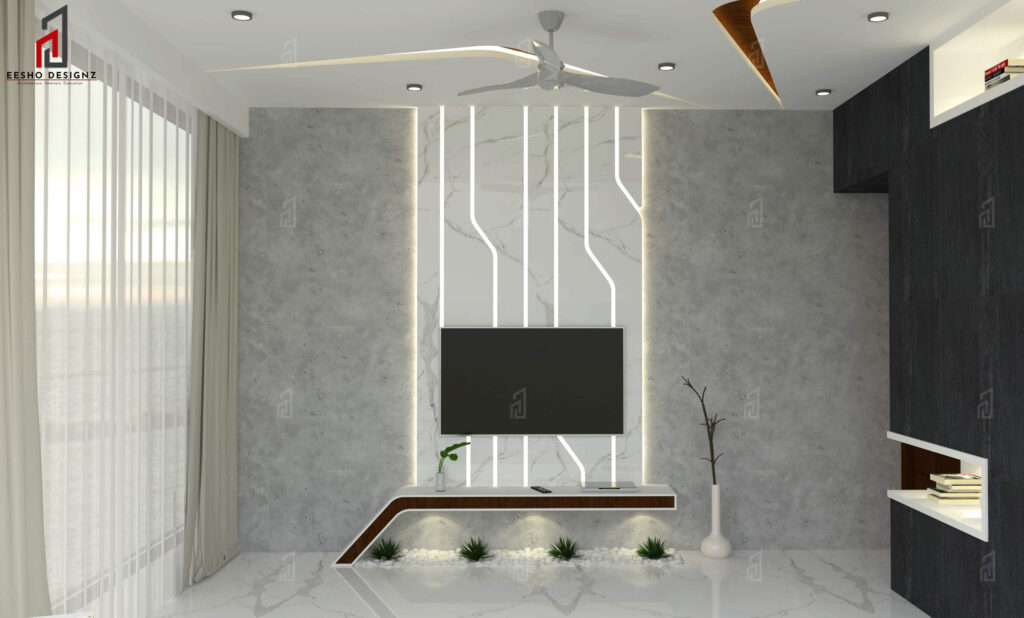 Moving towards the TV unit, the opposite wall of the bed, we designed some curvy lines and provide lighting facilities plus stone cladding on the top of the TV paneling with minimal and attractive look.
Decor
And then we placed TV, towards the base cabinet, we didn't placed any shelves but we provided a ledge with a curve. In the bottom we gave pebbles and artificial plants. The walls are covered with wallpapers.
However in the fall ceiling, we set up the curvy thing with some wooden finish. The most important thing is we can fix lightings anywhere we wish, it is a great advantage to set lightings anywhere. If we have taken square settings means only we set lightings with respective orders but here we can set any where we wish to set.
Features
This projects features wavy wall paneling's, an exquisite use of lighting and clean, white colors that take advantage of the natural light, all white giving room for attractive view of design and architecture.
The concept includes wavy lines, clean colors, minimal design and large windows.
Finally, overall settings gives an attractive and attentive look. We feel that it will be gave more peaceful sleep. Place your comments below in the comment box for more interesting interior you wish.
Location – Nagercoil
Type – Interiors
Area – 250 sq.ft
Status – Proposed
For more works kindly visit, share and follow us on facebook, instagram.