Design
It is a simple residential villa with the concept of minimalism, generally used by the most to present its grand setting.
Coming towards the design, we used extended roof instead of sun shades. By raising the wall in the car parking connecting towards the roof, it acts both as window sun shade and roof of the building or car parking.
Facade
The front facade wall with tiles cladding, to look rich and grand view.
To fill the emptiness of the window without sun shades we added grooves in wall. The same grooves were added in the tile cladded windows in the front facade.
To avoid the solid feeling in the car parking wall, we added vertical openings in the wall.
We applied wooden paint on the roofs to show more richness. At the top of roof slab we included plastering beading.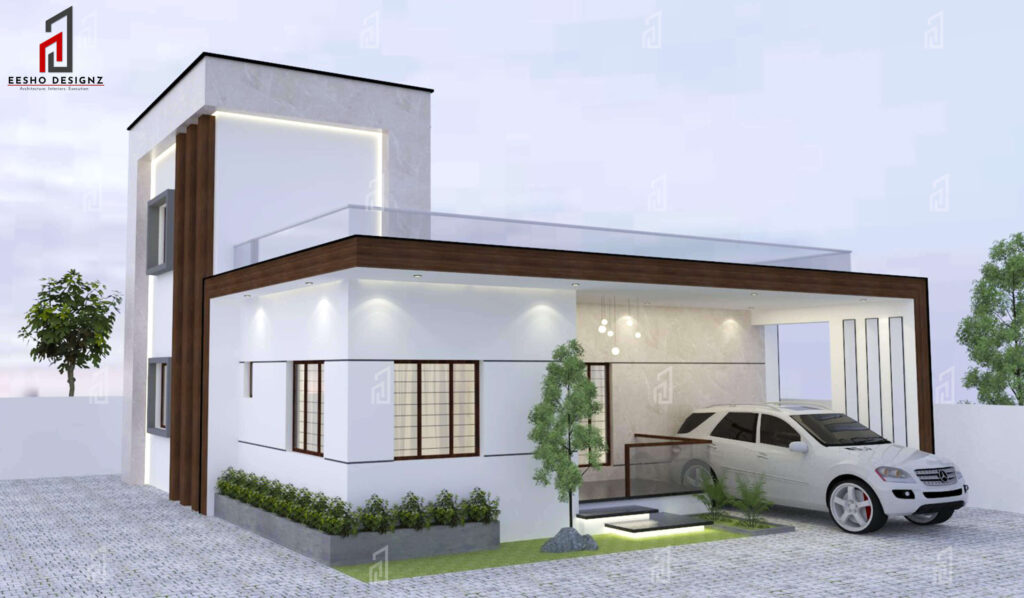 Style
In the left side of the building, top roof run towards the bottom so that it gives massive look.
In the first floor, we insisted only one bedroom so that another one floor added there. To highlight that place we raised one more wall and it was applied with the tile cladding like the front facade. Also lighting provision gives more attractive to the building.
Moreover we added three dummy pillars there because of an aesthetic purpose. In between the three pillars particular window splits into two to show the linearity.
The same thing was happening in the ground floor to the common toilet.
For the transparency level we built parapet wall with glasses. In the left side window we added box type sun shades.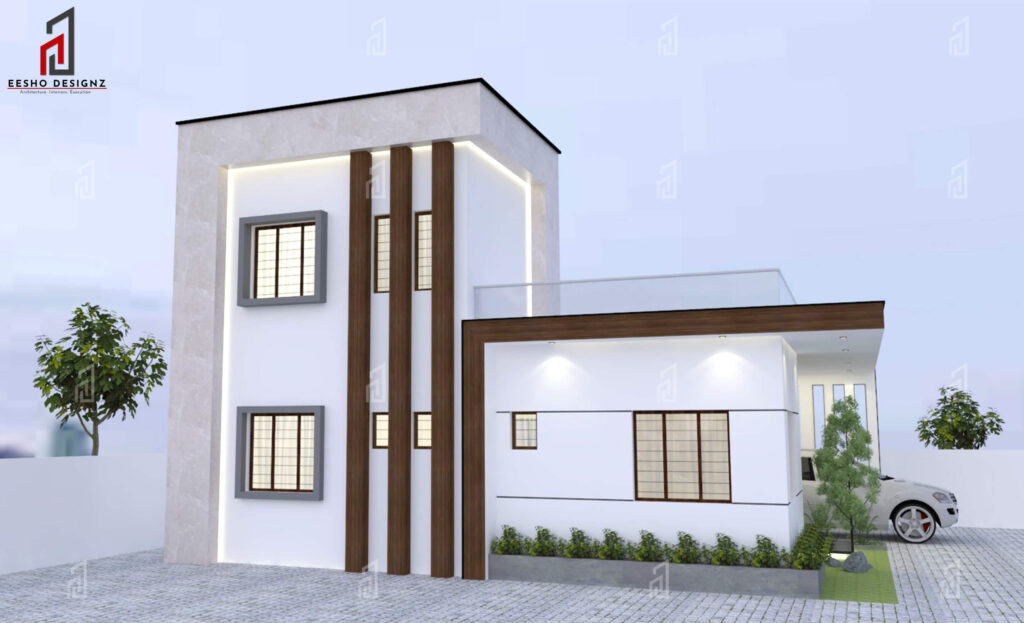 Lighting & Landscape
To improve the aesthetics, we designed landscape in front portion.
We proposed warm color lighting because of the beige shade tile cladding to improve prettier look.
Overall description was simple, neat and minimalist. It gives stable and luxurious look.
Location – Nagercoil
Type – Residence
Area – 1100 sq.ft
Status – Ongoing
If you found this post useful, I would really love it if you like it or share it. For more works kindly visit, share and follow us on facebook, instagram.