It is a pure Islamic architectural style designed villa.
Elements
The characteristic features of this villa includes symmetrical which was divided in to equal. Generally arches, domes were used in Islamic style.
Whether domes weren't used in this villa, they were used in mosques. Also landscapes, courtyard geometrical patterns, fountains water body designs and calligraphy features were probably used in Arabic villas.
 We used these combination of features in this villa. This is something apart from the art of minimalism.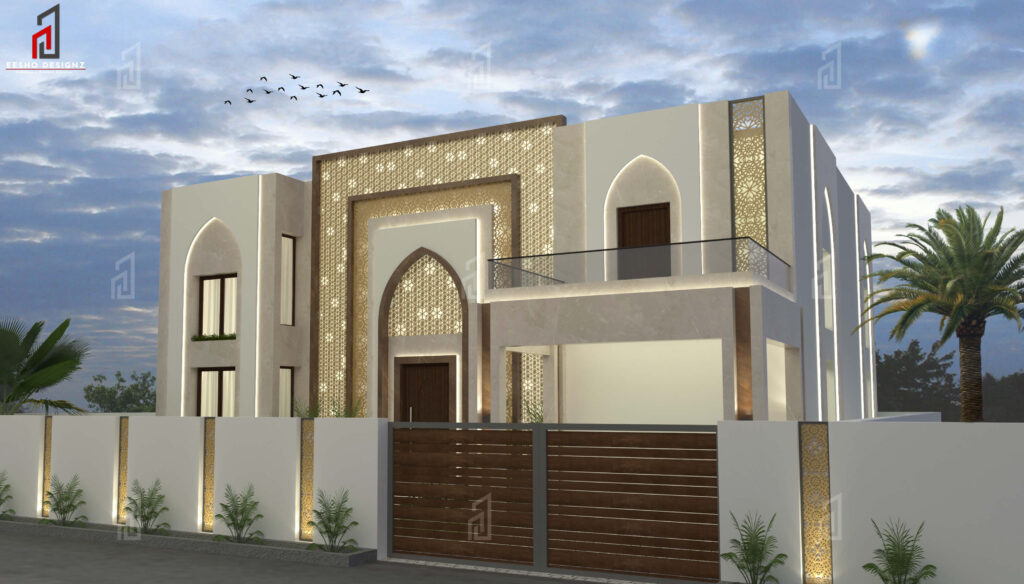 Design
It's a normal square plan, which is four sided equal – symmetrical feature plus we leave some space for the centralized courtyard. The basic segmentation's like bedrooms, halls, kitchen and dining were added in to this villa.
In the main entrance door, it seems like tall, but it's not like that, we provided lintel slab and we covered it with wood works and lighting's. So it looks like a lengthy door which covered the whole until the roof.
Coming up with the car parking, we designed extra four columns with lighting provisions. Additionally, we designed with wooden tile and tan brown marble cladding for the total residence which gives more luxury look.
We set a balcony view above the car parking area covered with glass handrails. Because it was accessed through the bedroom.
Geometric Pattern
We played a geometrical role, cnc jail patterns around the door for lighting's which presents over the door. Also we provided a pointed arch with lighting's. It is the most powerful pattern in the Islamic style.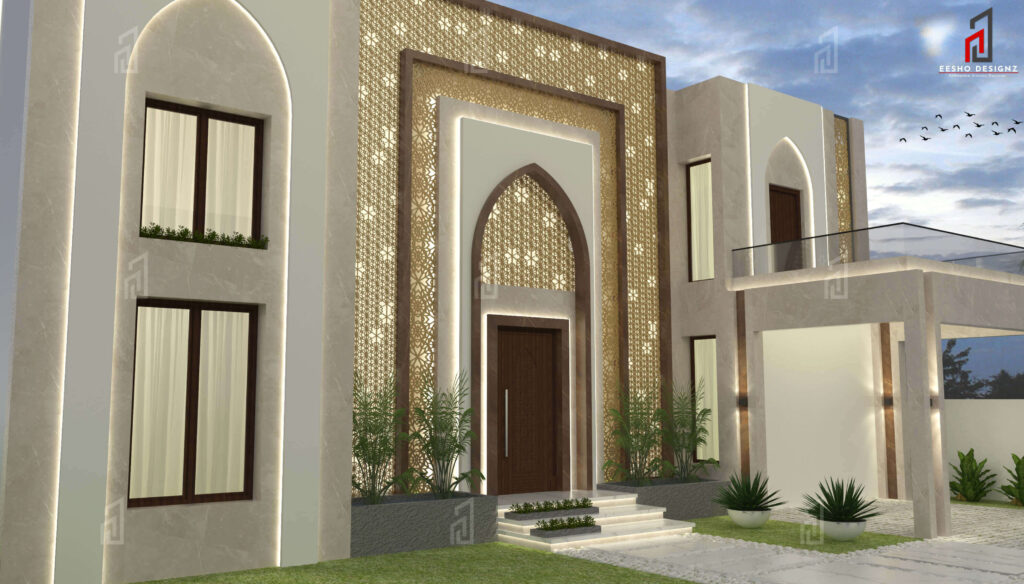 Lighting
 We also provided lighting's on that particular door in the balcony. Nearby the door there were a window for lighting and ventilation but it seems like a cnc jail work. Similarly in the right and left side, we placed a pointed arch and lighting's.
Landscape
Around the building we set up landscapes and lighting's, in the entrance steps to give more attraction. We used stones and pebbles in the pathway. Also we leaves some space for plants and trees.
The outcome of the building is becoming luxurious. Some people think that it might be a mosque, so guys leave your comments below.
Location – Nagercoil
Type – Residence
Area – 4500 sq.ft
Status – Proposed
If you found this post useful, I would really love it if you like it or share it. For more works kindly visit, share and follow us on facebook, instagram.